Welcome to
South Beach Prosthetics
The field where technology meets humanity.
South Beach Prosthetics understands the journey you are undertaking. Our highly experienced team is here to ensure you receive the best quality of care and attention as you navigate your road to independence. We collaborate with your providers every step of the way, so you are always supported, protected, and reassured.
Our in-home care and included transportation are just some of our added extraordinary benefits.
We stand with you – not just at this moment, but in your continued journey as you navigate these challenges. Our cutting-edge technology & supportive teams make it possible for you to get right back to a life you can enjoy.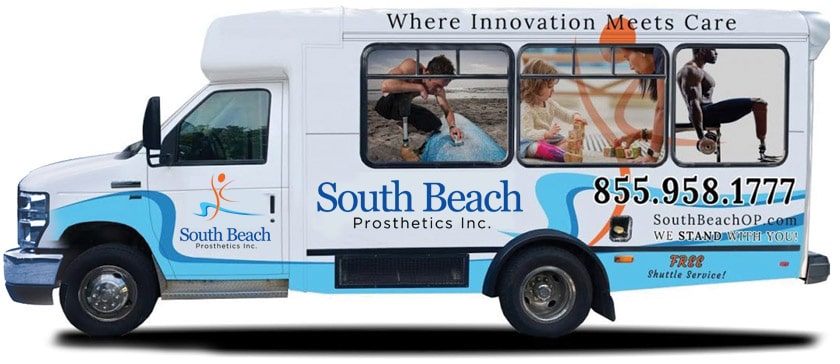 We offer
included transportation
for ALL your prosthetic appointments!
Hospital, doctor, rehabilitation, and outpatient – all!
You can relax — we've got you!
Designed with YOU in mind, our prosthetics are made by the best and supported with ongoing care.
Schedule Your Free
Consultation
We would love to meet with you and discuss your situation. Contact us to discover our high-quality care for yourself.
OR fill out the form below
Get In-Home Care Starting Today
Our Key Services
Our Key Services
We treat you like a VIP with in-home care and included transportation. We pride ourselves on being the leading provider and manufacturer of Prosthetics in Florida. Our commitment is to provide you with superior care, education, and the latest in technology and innovation.
We offer FREE
consultations
in-home care, and transportation
to prosthetic appointments.
In The Media: A Heartwarming Story About Changing Lives
Video Testimonials
Our patients say it best! Hear how our in-home services, included transportation, and caring staff have made a huge difference in their lives!